Personal Information
Résumé
Education
Research Interests
NASA Experiences
Work Experiences
Contact Information
Photo Pages
Photo/Video Album
Hotlist

E-mail me at:


Personal Information
---
My parents, Thomas and Joanne, live in Canfield, Ohio where I spent the first 18 years of my life. My brother Tommy (far right in the picture below) lives in Boardman, Ohio and is a fireman with the Boardman Township Fire Department. My brother Keith (far left in the picture below) attended the University of Cincinnati and graduated with a degree in Electronic Media and now works as a freelance video editor in Hollywood, California.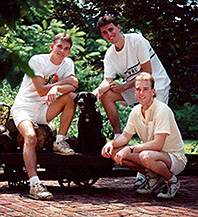 Picture taken in Canfield, Ohio, June 1991.
I completed a Master of Science degree in Aerospace Engineering at the University of Maryland and worked for 7 years as an engineer in the Space Systems Laboratory before moving over to NASA. I teach an engineering design class at the University and am taking classes part-time towards a Master of Science in Fire Protection Engineering.
In my free time, I enjoy running, playing softball (to get really personal, check out one of my softball accidents) and ultimate frisbee, SCUBA diving, and golfing. I am a volunteer fire fighter/EMT-B with the Greenbelt Volunteer Fire Department and Rescue Squad and a rescue diver, swiftwater technician, and ice rescue specialist with the Prince George's County Water Rescue and Recovery Team. I also speak to groups on space and engineering as part of NASA/Goddard Space Flight Center's Speakers Bureau and also give tours of the Center.
DISCLAIMER: I do not speak for any of the organizations listed on any of these pages.
© 1996-2017 Brian J. Roberts
Last updated: 29 January 2008