All photos on my photo pages were taken by me unless otherwise credited. You can see all of my online family and personal photos and videos in my online photo/video album.
The few times my brothers and I weren't fighting, we had our picture taken.

197? - My youngest brother Keith (in the middle) is sitting in the chair, and my other brother Tommy (on the right), who looks like he's about to do something mischievous, is sitting next to him. I'm the one on the left with the frightened look on my face.
(Photo taken by my mom)


1991 - Keith is on the left, then my parents' dog Tasha, me, and Tommy is on the far right.
(Photo taken by Stacey Studios)
In the spring of 1998, I participated in the NASA Reduced-Gravity Student Flight Opportunity Program at the NASA/Johnson Space Center in Houston, Texas. A specially modified KC-135A turbojet transport airplane flew parabolic arcs to produce weightless periods of 20-25 seconds. We flew 40 mirco-g parabolas plus one Lunar-g and one Martian-g parabola each day and I am proud to report that I did not get sick. The purpose of our two days of flights was to test a new type of wrench we are developing for astronauts to use during spacewalks.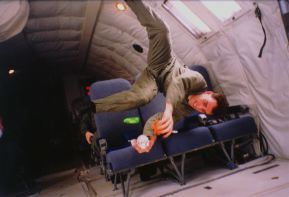 My attempt at juggling in micro-g.
(Photo taken by Erica Lieb)
I treated my parents to a baseball game at Jacobs Field in Cleveland over the Memorial Day holiday in 1998. Unfortunately, the Tribe lost to the Toronto Blue Jays.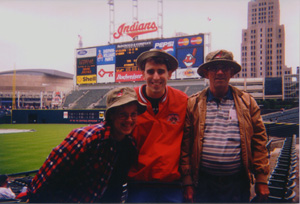 (Photo taken by Steve Pazdan)
Here is my best friend Steve (on the right) and my Assistant best friend Chris (on the left) watching the Tribe play the Yankees.

(Photo taken by the person sitting next to us)
My parents visited my brother in Cincinnati. Ohio in May of 2000 and took time to pose with the Cincinnati Bengals' mascot.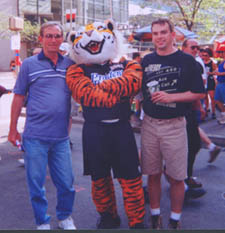 (Photo taken by my mom)
Later that month, my parents came to see me and attend my Master of Science graduation ceremony.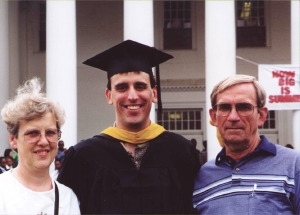 (Photo taken by Corinne Ségalas)
My fiancé (now wife) surprised me for my birthday in 2005 and bought me a yellow labrador retriever puppy. We named her Bella.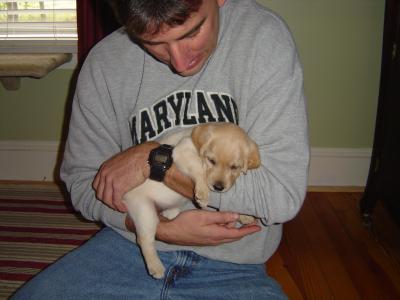 (Photo taken by Nicole)
Check out Bella's Blog
Nicole and I were married on August 26th, 2006. Check out our online engagement and wedding photo and video album and our honeymoon page.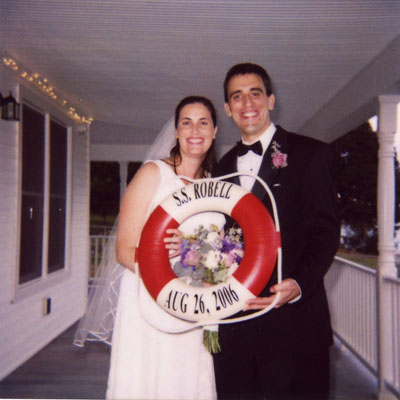 (Photo taken by Karen Parker)